Director, Producer, Writer: Lesya Kalynska
Director, Producer, Director of Photography: Ruslan Batytskyi
Co-producers: TJ Collins, Jonathan Borge Lie, Lars Loge
Consultant editor: Anne Fabini

Cinematographer in war zone: Anton Yaremchuk
Photographer: Sergey Mikhalchuk
Photographer in war zone: Lesko Kromplitz
Cinematographers:
Taras Tomenko, Taras Tkachenko, Anna Borysova, Anastasia Lysenko,
Anton Fursa, Yuri Dunay.
Production Manager in Ukraine: Slava Garmash
Sound Recording and Music: Andriy Nidzelskiy, Mykhailo Zakutskyi
Assistant Editor: Olga Voytenko
Translators: Ali Kinsella, Kristina Melnick
Genre: Feature Documentary
Prospected Running Time: 90 min
Countries of production: USA, Ukraine
Projected date of release: 2017
Production companies: Pomegranate Studios (USA) and Batytskyi Production (Ukraine)
Co-production company: Volt Film (Norway)
Shooting format: HD
Language: Ukrainian, Russian, English with English subtitles


Logline:
Two protesters fall in love during the Ukrainian Revolution in 2013. But they soon find themselves thrust into a much darker conflict: Russia's military invasion.
Synopsis:
Several ordinary people are transformed into revolutionaries as millions of Ukrainians made their voices heard during the Revolution of Dignity, which took place at Maidan, a central square of Kyiv. Svitlana, Pavlo, Serhii, Vadym and Maksym become members of self-defense movement, Ivan Lenyo and the band Kozak System inspired and engaged peaceful protesters with their songs, and Bohdana become media activists who streamed the events from Ukraine to world. The center of the film is a dramatic journey of Svitlana and Pavlo, who met in Maidan and instantly fell in love. Though they began as joyful activists who sang words of peace and love, they soon found themselves in a conflict much darker and more sinister: war in the eastern border of Ukraine. These once peaceful demonstrators decide to transform themselves into a politician and a soldier to fight corruption and a war with Russia.
The project is supported by:
Sundance Institute Documentary Film Fund, USA
IDFA (International Documentary Film Festival Amsterdam) Bertha Fund, Netherlands
Bertha Britdoc Documentary Journalism Fund, UK
Razom for Ukraine, USA
Shevchenko Scientific Society, USA
Murray State University, USA
Still Point Foundation, USA
FrittOrd Foundation, Norway
Ukrainian Congress Committee of America, USA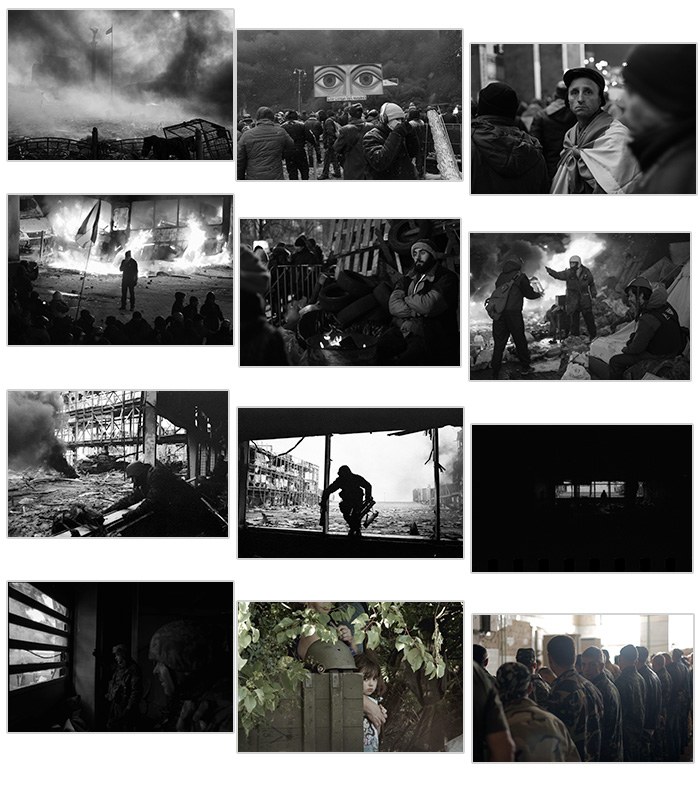 Director, Producer, Writer


Lesya Kalynska



Director, Producer, Director of Photography





Ruslan Batytskyi