Director, Producer, Writer: Lesya Kalynska
Director, Producer, Director of Photography: Ruslan Batytskyi
Producer, co-writer: TJ Collins
Producers: Jonathan Borge Lie

Genre: Feature Documentary

Prospected Running Time: 82 min

Countries of production: USA, Ukraine, Norway

Production companies:
Pomegranate Studios (USA) and Batytskyi Production (Ukraine)
Co-production company: Volt Film (Norway)

Date of release:
A RISING FURY, 2022 Tribeca Film Festival (World Premiere)

Shooting format: HD
Language: Ukrainian, English and Russian with English subtitles


Synopsis:
"A RISING FURY" follows two hopeful Ukrainian idealists for almost 9 years from the peaceful protests in Kyiv in 2013 to the full-scale Russian invasion of Ukraine in 2022. Pavlo and Svitlana met and fell in love at the Maidan Revolution. When Russia invaded Crimea and Donbas in 2014, Pavlo lost his family home and joined the Ukrainian military effort.
To defend his nation, he engages in deadly firefights against former friends who join Russian forces. As Svitlana transports food and medical supplies, both find themselves on the battle lines, protecting their land, democracy, and their relationship.
The US organizations and funds supporting the project include:
Sundance Institute Documentary Film Fund
Murray State University
Still Point Foundation
Shevchenko Scientific Society
Razom for Ukraine
UCCA (Ukrainian Congress Committee of America)
Diannaderhak.com
UABPA
UNWLA
UNA
Plast
CYM


Additional support in US by:
New York University
The Gotham Film and Media Institute
The Ukrainian Museum in New York City
Women Make Movies
Ukrainian Film Club at Columbia University
Ukrainian Consulate General NYC


Our special gratitude:
Michael and Nadia Kalinski,
Leonard and Helena Mazur,
Dianna Derhak and Alexandra Zawadiwsky


European organizations and funds supporting the project include:

IDFA Bertha Fund, Netherlands
Bertha Doc Society Journalism Fund, UK

The Fritt Ord Foundation, Norway
Sorfond, The Norwegian South Film Fund, Norway

Finport Technologies, Ukraine


Film credits:
Editor: Araby Kelley
Original score by: Emiliano Mazzengabr

Cinematographers:
Ruslan Batytskyi, Lesya Kalynska, Anton Fursa, Anton Yaremchuk, Taras Tomenko,
Lesko Kromplitz, Ivan Fomichenko, Anna Borysova, Yuri Dunay, Taras Tkachenko, Anastasia Lysenko.

Photographers: Sergey Mikhalchuk avd Lesko Kromplitz
Additional video recording: Pavlo Pavliv and Mykola Petkovych.

Sound Recording:
Andriy Nidzelskiy, Mykhailo Zakutskyi, Natasha Avramenko
Sound Design and Mix: Joe Sears and Andriy Nidzelskiy

Colorist: Sanjit Majumdar
Title and graphic design: Jesse Kerman

Creator and producer of "Sunflowers of Ukraine" campaign: Dianna Derhak 
Impact producer: Alexandra Zavadivska

Consultants:
Boris Frumin, Etienne Kallos, Shlomo Godder, Josh Green, John Tintori, Carol Dysinger
Website and graphic design: Natasha Mikhalchuk
Assistant Editor: Olga Voytenko


To learn more about our feature documentary "A RISING FURY" visit our official website:
Trailer: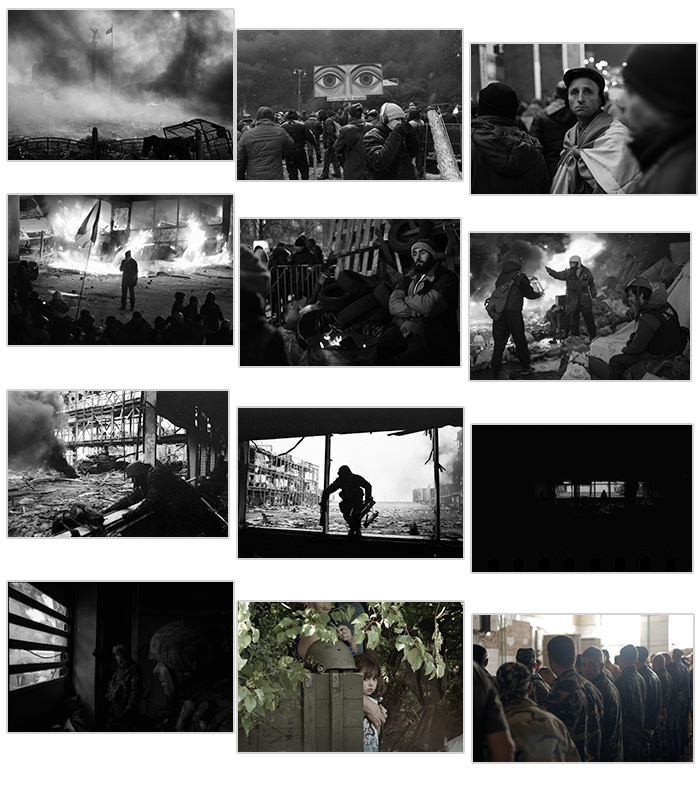 Director, Producer, Writer


Lesya Kalynska



Director, Producer, Director of Photography





Ruslan Batytskyi